Zhou Yun Peng (周云蓬) and Xiao He (小河) perform at SY Experimental Theatre in Qingdao on June 24, 2012. The venue is in Taidong at 26 Shunxing Lu, near the Taidong San Lu pedestrian mall.
When: June 24, 7.30 pm
Venue: SY Theater / 青岛SY实验剧场
Location: 26 Shunxing Lu / 顺兴路26号
Tickets: 100 yuan (RMB) advance/students, 120 at door
More Info: 186.5327.4612
Listen to the music of Zhou Yun Peng and Xiao He on Douban.com. Also check out video of Xiao He on Youku below and more of his music on Myspace.
Buy pre-show tickets at Xiao Xian Noodles (小咸汤面) at 43 Jiangxi Lu (江西路43号) across from the Shandong Foreign Trade College and also at Xueyuan Bookstore (学苑书店) at 22 Quanzhou Lu (泉州路22号) behind Mykal in the Hong Kong Gardens area.
There will be also be a free meet and greet / book signing for the publication Green Skinned Train (Lu Pi Huche/绿皮火车) at Xueyuan Bookstore on June 25 at 7.30 pm.
Call 186.5327.4612 for more info.
Check out the Google map or the Baidu map (Chinese) for directions to the theatre.
Zhou Yun Peng was born in 1970 in Liaoning province. His childhood was all about train traveling to hospital with his mother due to his eye sickness. He lost his eyesight at the age of 9. The last vision in his mind was the elephant playing harmonica with its nose (trunk), which may have been an early impetus for his songwriting.

In 1980, Zhou got into School for the Blind in Shenyang (沈阳盲童学校) and then went to Tianjin for high school. In 1991, he entered Chang Chun University, majoring in Chinese, and graduated in 1994. During university, his favourite books were "The Unbearable Lightness of Being" and "The Stranger".

After graduation, he was assigned to a salad oil factory but he couldn't bear that lifestyle and quit after a few months. He persuaded his parents, took his guitar, went to Beijing and made a living performing on the street – as many blind players had done in the past.

From 1996 to 1997, He traveled through Nanjing, Shanghai, Hangzhou, Qingdao, Changsha, occasionally performing live at universities.

1999, he founded the magazine Fate and Door (民刊命与门), officially beginning to write poems and songs.

2001, he went to Tibet alone.

In 2002, he founded a second magazine 民刊低岸, aiming at illustrating underground people's status and spirit in the form of poetry.

2003, he signed with Modern Sky and recorded his first album Silent Breathing 沉默如谜的呼吸.

In April 2009, his song 我愛孫敬修 (I Love Sun Jingxiu) was included on the compilation record Red Bulldozer.

On May 2nd, 2010, he performed at the Strawberry Music Festival 2010. According to Beijing Gig Guide: A lot of the appeal of his music is, I think, in the social mes­sages in the lyrics (there was a song about the ring roads stretch­ing out­wards and out­wards to other cities in China, then south-east Asia, then Aus­tralia, etc), but for those non-Chinese in the audi­ence, he offers an unique sound with his deep, hum­ming voice and sin­gle gui­tar. The pecu­liar thing about this per­for­mance was not the blind man on stage, but the fact that every­one was made to sit down by secu­rity. Per­son­ally, I think it was just for visual effect in the record­ings, but it did make for an impres­sive stand­ing ova­tion at the end of his set.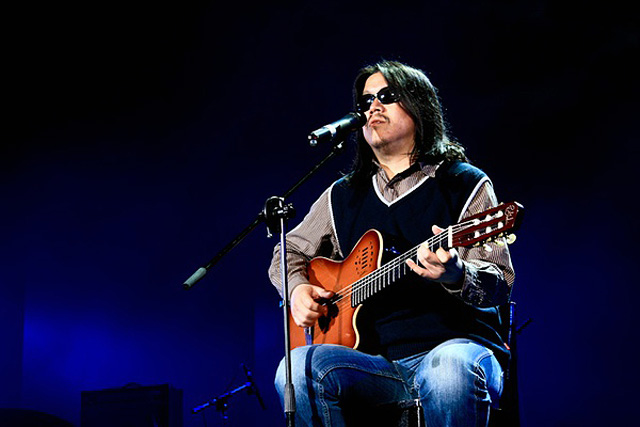 Relevant Links:
Qingdao SY Experimental Theatre
Zhou Yun Peng on Douban
Xiao He on Douban
Zhou Yun Peng on Rock in China
Xiao He on Rock in China
Xiao He on Myspace
SY Qingdao Experimental Theatre on Google Maps
Sy Experimental Theatre on Baidu Maps