The FIFA World Cup is by far the most popular sporting event in the world. For the next month, football fans from all over the world will congregate in Qingdao to watch the South Africa 2010 World Cup at places such as Freeman, Cassani, Old (and New) Jack's, ssLPG…just about every bar or cafe with a TV will be tuning in to watch. For those soccer fans who want to watch at home with friends and family or even host a house party, check out the live televised coverage of the 2010 World Cup live on CCTV5.
The opening matches will be shown live as they happen on June 11 @ 10:00 pm (Qingdao local time), South Africa vs. Mexico and later on in the early morning hours of June 12 @ 2:30 am, France vs. Uruguay. In the Group stage and beyond, Chinese fans may be found cheering on perennial favorites Brazil and some even speculate that sentiment for North Korea will run high in a show of solidarity for a close neighbor that overcame the odds. Also, the local connection to South Korea runs deep and the Reds will be watched closely. The friendly rivalry between England and the USA will capture the imagination of partisan fans from both sides of the Atlantic. Interested parties can watch this match in the wee hours on June 13 @ 2:30 am, after a special World Cup party at Li Du's new bar and cafe near Zhan Qiao, called Prince Henry, on the 5th floor of the Prince Hotel (Wangzi Fandian/王子饭店). There should also be plenty of local interest in matches involving Netherlands, Italy, Serbia, Japan, Australia, and New Zealand.
Stage 2 will begin on June 26, as the winning teams advance to the Round of 16, Quarter-finals, Semi-finals, Match for 3rd place, and the Final on July 12 @ 2:30 am Qingdao time. See below for the highlights of the 2010 FIFA World Cup Group stage coverage on CCTV5.
Visit the FIFA official website to see the as yet undecided Stage 2 brackets. Check out a full calendar of all the matches and download a pdf of the South Africa 2010 Match Schedule.
Who will win the South Africa 2010 FIFA World Cup? Some say Brazil is always a strong bet, as they have won the most in history. Italy won the last World Cup in Germany, and maybe Argentina, Spain, and England can pull off some big wins. Tune in to find out for sure. From June 11 to July 11, it'll be hard to miss the World Cup in Qingdao.
Highlights Of 2010 FIFA World Cup Group Stage Coverage on CCTV5:
View the full schedule of the Group stage on the official FIFA website. Check out the full CCTV5 match schedule on the CNTV website. All times posted are Beijing Standard Time, which is also Qingdao local time.
GROUP A
South Africa vs. Mexico

June 11 @ 10:00 pm

Uruguay vs. France

June 12 @ 2:30 am

South Africa vs. Uruguay

June 17 @ 2:30 am

France vs. Mexico

June 18 @ 2:30 am

France vs. South Africa

June 22 @ 10:00 pm
GROUP B
Argentina vs. South Korea

June 17 @ 7:30 pm
GROUP C
England vs. USA

June 13 @ 2:30 am
GROUP D
Germany vs. Australia

June 14 @ 2:30 pm

Germany vs. Serbia

June 18 @ 7:30 pm

Australia vs. Serbia

June 24 @ 2:30 am
GROUP E
Netherlands vs. Denmark

June 14 @ 7:30 pm

Japan vs. Cameroon

June 14 @ 10:00 pm

Netherlands vs. Japan

June 19 @ 7:30 pm
GROUP F
Italy vs. Paraguay

June 15 @ 2:30 am

Italy vs. New Zealand

June 20 @10:00 pm

Slovakia vs. Italy

June 24 @ 10:00 pm
GROUP G
Côte d'Ivoire vs. Portugal

June 15 @ 10:00 pm

Brazil vs. North Korea

June 16 @ 2:30 am

Portugal vs. North Korea

June 21 @ 7:30 pm

Portugal vs. Brazil

June 25 @ 10:00 pm
GROUP H
Honduras vs. Chile

June 16 @ 7:30 pm

Chile vs. Spain

June 26 @ 2:30 am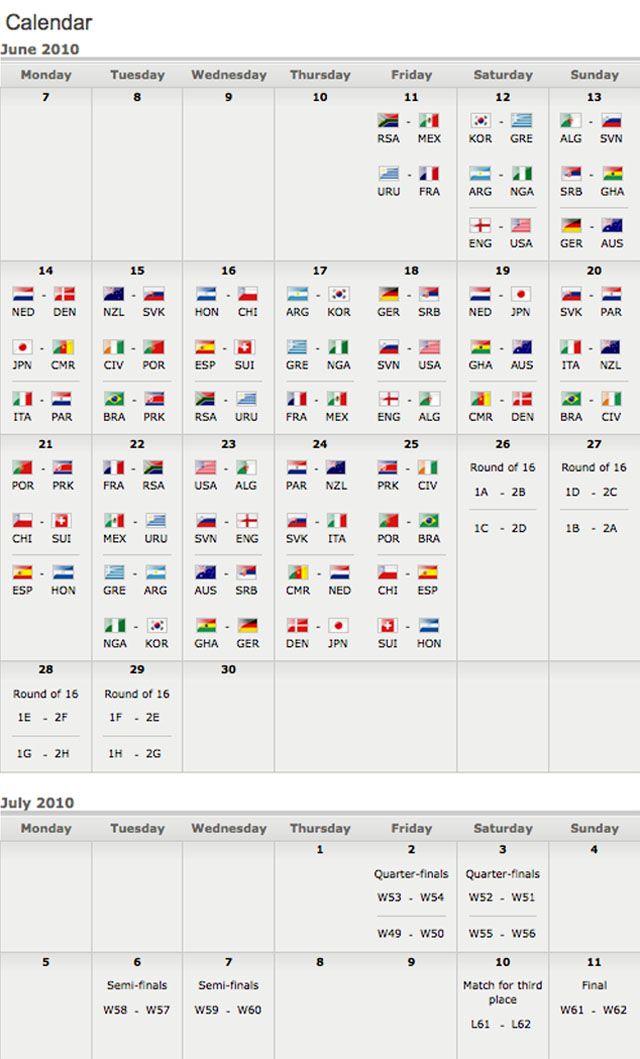 Relevant Links:
CCTV5 Match Schedule of 2010 World Cup
South Africa Host Country 2010 World Cup Official Website
2010 FIFA World Cup Official Website