Li Na and Zheng Jie, aka the Golden Flowers, are out to popularize tennis in China and change the game forever. The 2 Chinese players made history at the recent 2010 Australian Open when they made it into the quarterfinals of the Grand Slam tournament, with Li Na only knocked out by eventual champion Serena Williams. Wuhan native Li, who defeated both world number 4 Caroline Wozniacki and Venus Williams to enter the semis, subsequently became the first Chinese women's player ever to make the top 10 in the WTA rankings.
Chengdu born Zheng Jie will be remembered as the first Chinese player ever to enter the final four of the Australian Open, a feat accomplished when she bested Alona Bondarenko of Ukraine. Zheng Jie was also the first Chinese player ever in a Grand Slam semi-final (Wimbledon '08). Zheng is the more conservative of the pair, who have been dubbed the 'chalk and cheese of Chinese tennis' due to their different personalities and playing styles. Li Na is seen as a rebel, with her rose tattoo on her chest and sarcastic cracks at news conferences.
The iconic photograph of the pair holding a Chinese flag in Melbourne heralds the entrance of the Chinese women tennis players into the global celebrity news cycle, and much like Yao Ming made basketball extremely popular among Chinese sports fans, it is projected that the success of Li and Zheng will have a similar impact. Chinese women's tennis players first made a mark in the international arena in 2004, when Sun Tiantian and Li Ting made everyone in China proud by claiming gold medals for doubles tennis at the Athens Olympics.
Zheng Jie and Li Na are continuing the ascent and should pave the way for many young players yet to come, just as South Korean women started to dominate women's golf in the 90's after Se Ri Pak hit the big time. Zheng Jie has already totaled 3.5 million US dollars in total career earnings while Li Na has made 2.5 million since turning pro. The prize money from tournaments such at the Aussie Open goes directly to the players, who now have control over their careers after being released from the national obligations to the Chinese Tennis Association.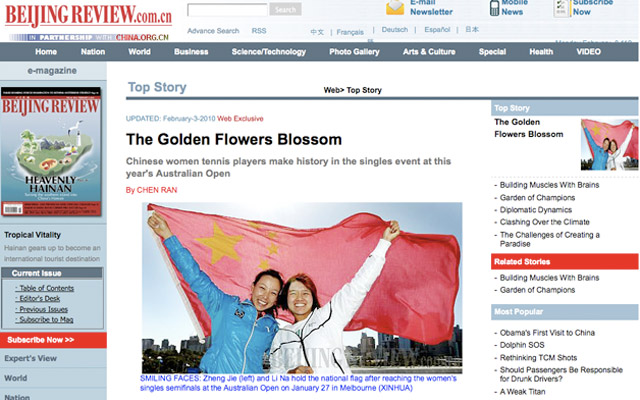 Relevant Links:
Official WTA Rankings
Australian Open
Li Na / Zheng Jie Make History
Chinese Euphoria
Golden Flowers Blossom
Chinese Tennis Growing
Chinese Tennis Rising
Video on CCTV-9 Sports
Li Na and Zheng Jie Head to Head Comparison
Chinese Media Coverage of Australian Open