Er Shou Mei Gui (Second Hand Rose/二手玫瑰) performs live in Qingdao at Downtown Bar on November 25, 2012.
When: November 23, 2012, 9 pm
Venue: Downtown Bar
Address: 100 Nanjing Lu (Creative 100) / 南京路100号创意园
Tickets: 80 yuan (RMB) at door, 60 pre-sale
Downtown Bar is in Building 3 of Creative 100, the creative industries park complex located northwest of the Nanjing/Jiangxi Lu intersection in Shinan district.
The Rock in China Wiki says:
Second Hand Rose (二手玫瑰) is a Chinese rock band from Beijing, China. The band is known for it's bold combination of traditional Chinese instruments with solid rock'& roll fundamentals. The influence of traditional Chinese folk music can be clearly felt in the singing of lead singer Liang Long and the usage of traditional Chinese instruments in both their recordings and live performances. Their debut album, the self-titled Second Hand Rose Band, was released in 2004 to critical acclaim in China's bigger cities. The album also received rave reviews on specialist music websites in the U.S.
Listen to Er Shou Mei Gui on Douban.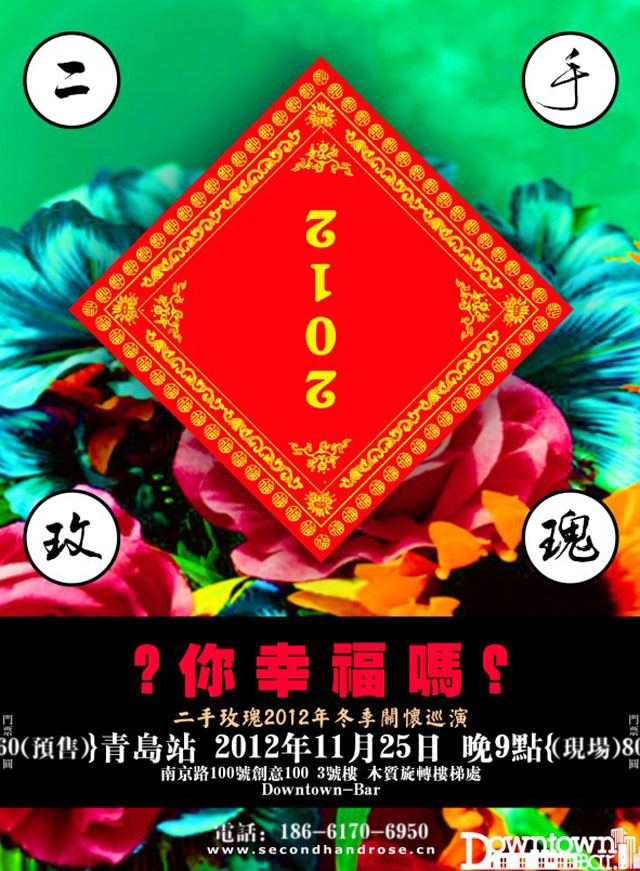 Relevant Links:
Second Hand Rose on Rock in China Wiki
Creative 100