Quartet San Francisco performs in Qingdao at the Qingdao Grand Theatre on January 2, 2012. The band plays a mix of styles from chamber to tango to jazz, interpreting modern masterpieces by artists as diverse as The Beatles and Piazzolla. Watch video of the band performing live on their website. Tickets range from 30 to 180 yuan (RMB). The Qingdao Grand Theatre is near the Qingdao Museum in Qingdao's Laoshan district. For more info, call 8066.5555.
When: January 2, 7.30 pm
Venue: Qingdao Grand Theatre / 青岛大剧院
Location: 5 Yunling Lu, Laoshan district / 云岭路5号
Tickets: 30-180 yuan (RMB)
More Info: 8066.5555
Quartet San Fancisco has gone through some lineup changes since debuting in 2001. The current quartet includes:
Jeremy Cohen (violin), former student of Itzhak Perlman who has worked with Linda Ronstadt, Ray Charles, Aaron Neville, and more – he appeared on Carlos Santana's "Supernatural" and the original "Star Wars" compilation CD with John Williams.
Alisa Rose (violin) started playing at the age of three and won her first fiddle competition at age five. Alisa is a member of the Picasso Quartet, the Real Vocal String Quartet, Homespun Rowdy, 49 Special, and A.J. Roach and the Strange Pilgrims.
Keith Lawrence (viola) studied viola at the Creative and Performing Arts Middle and High Schools in Pittsburgh, the Interlochen Arts Academy, and The Winchester Thurston School. After graduating from North Allegheny Senior High School in 1999, Lawrence enrolled as a viola performance major at the Oberlin Conservatory under the tutelage of Peter Slowik and Roger Chase where he received his undergraduate degree in 2003. Lawrence completed his graduate studies at the DePaul University School of Music as a student of Rami Solomonow in 2007.
Michelle Kwon (cello) holds B.A. and M.M. degrees in Violoncello Performance from Stanford University and the San Francisco Conservatory of Music. A passionate ensemble player, she has collaborated with artists such as Kenny Endo and the Kenny Endo Taiko Ensemble, John Vanderslice, and bands Death Cab for Cutie and Hauschka. She recently performed at Carnegie Hall with the YouTube Symphony Orchestra, and plays with the Fresno Philharmonic., the Oakland East Bay and Monterey symphonies, the San Jose Chamber Orchestra, and the Magik*Magik Orchestra of San Francisco.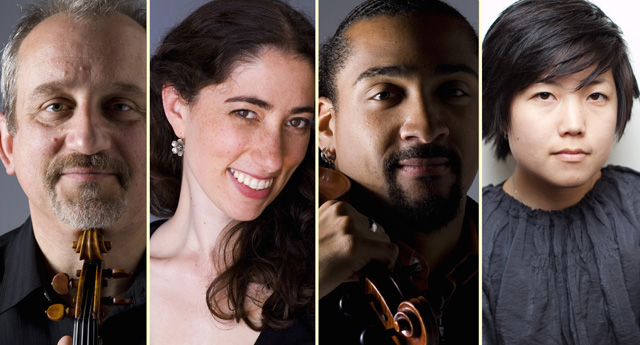 Relevant Links:
Quartet San Francisco Official Website
More Info on Qingdao Grand Theatre
Photo Credit @ Nicholas Wilson