The next Qingdao Hash House Harriers run is September 3, 2011 – meet at Crowne Plaza at 2 pm. This marks run number 239 for the Qingdao Hashers. Also this weekend is the 10th All China Nash Hash held this year in Beijing (September 2 to 4).
When: September 3, 2 pm
Venue: Meet at the Crowne Plaza, 76 Xianggang Zhong Lu
From the Qingdao HHH official website: "Here in Qingdao, every week the Qingdao Hash House Harriers jog, walk, crawl and run a 60 to 90 minute fun run. They follow a trail marked with flour laid out by "hares" which ends at a "Down Down" circle."
See more details below.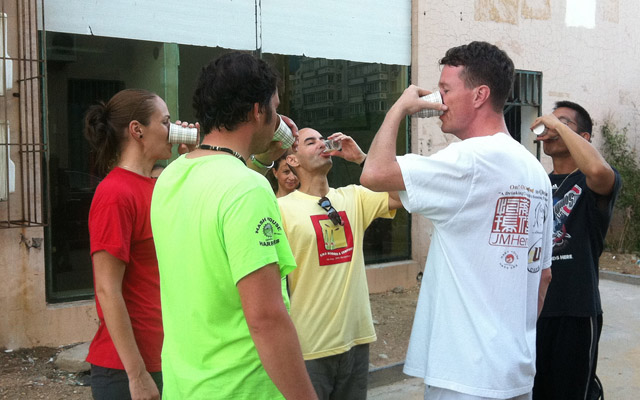 More info from the Qingdao HHH:

Dear Hashers,

Run No. 239 – Saturday, September 3, 2011

Hare/s: Whore's Whisperer

Costs: usual RMB 10 for bus and beers, dinner is optional and will be an additional cost if you decide to stay

Meeting Place and Time: Hotel Crowne Plaza at 2 PM for a 2:15 SHARP start

Plan to attend? Please RSVP here

More Info: This run is top secret. The hare will fill us in with details on the day of the run !!!!

Receding Hareline:

Run No. 240 – September 10: WE NEED A HARE, any volunteers???
Run No. 241 – September 17: Out of town special at Huadong Wineries – Straydog (Chris) and Wuimin
Run No. 242 – September 24: Well Hung Jury (Steve) and Pleases the Court (Sarah) This will be a "Run Your Ass Off" hash: Long and fast

Planned out of town specials:
September: Huadong Winery Tour in Beizhai – 17th Sept.
October: Sausage Fest at DEFA, Jimo, dated/details to be announced

Want to volunteer for haring? Know someone who wants to hare? Please contact our Hare Raiser "Well Hung Jury".


—
On On !!
Well Hung Jury & Team
Hare Raiser/Trail Master – Qingdao Hash House Harriers
—
Relevant Links:
Qingdao Hash House Harriers Official Website
Crowne Plaza Qingdao Website
Qingdao HHH on Facebook