The Qingdao Hash House Harriers are on the road again, this time to check out the Silver Beach in Xuejiadao, a part of the Huangdao Development Zone, or Kaifaqu (开发区). Run number 231 will commence from a location to be announced in Huangdao at 1 pm, so there's an early start from Crowne Plaza Qingdao at 11 am. Alternatively, make your way over the bay via the new tunnel or bridge and meet up in the Development Zone. See below for details.
When: July 9, 11 am
Venue: Meet at the Crowne Plaza, 76 Hong Kong Middle Rd.
More info from the Qingdao HHH:

Dear Hashers,

Mark your calendars for Saturday, July 9 when we are off again for one of our out of
town Hash Specials. This time we are going across the bay to Huangdao. The Hash bus
has limited seating capacity – FIRST COME FIRST SERVED with priority to regular
hashers FIRST – 30 hashers to register are guaranteed a seat on the bus, unclaimed
seats will be offered to non-hashers wanting to go!

Run No. 231 – Saturday July 9, 2011 at Huangdao
Hare: Crack Whore
Costs: RMB 50, RMB 30 with "local student ID" – covers bus and beers
Food: Bring your own picnic!

Here is a tentative sketch of what the day might have in store for us:

Departure: Crowne Plaza 11 am
Return: 8 pm or later
Run Site: Huangdao, exact location TBA closer to the date
Arrival at the run site: 1:00 pm
Run time: Around 75-90 minutes approximately

Circle at Silver Beach followed by bring your own picnic, beach games, swimming,
bonfire, whatever….

Home time!

Please contact us for more details or reserving your spot via email to Qingdao HHH.

On on….Thanks and hope to see many of you on the run!
Here's a pic from years past on the Silver Beach in Xuejiadao (a part of the Huangdao Development Zone, Kaifaqu, in Qingdao).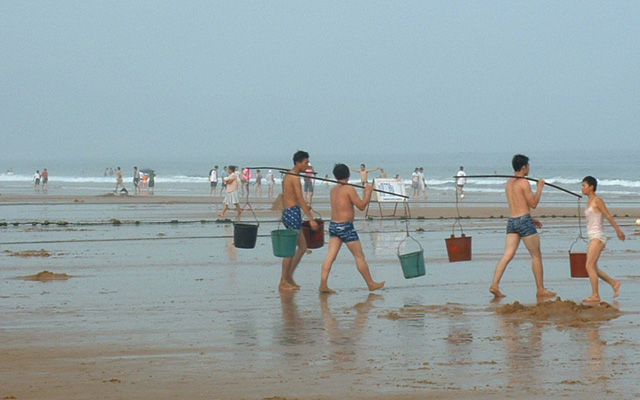 Relevant Links:
Official Qingdao Hash House Harriers website
Crowne Plaza Qingdao Website
Photo Credit @ Qingdao Hash House Harriers, Vaablane