Qingdao born artist Leah Wong has been gaining attention with her latest work consisting of three dimensional papercuts. Featured in the Shanghai publication SpaChina, Leah is now living in the US where her work is part of a group exhibition called "Diverse" at Ohio Wesleyan's Ross Art Museum in Delaware, Ohio through March 31, 2013. Take a look at her papercuts installations here.
"To Leah, cutting paper is like drawing with a knife, and setting up an installation is like composing a painting in an open space." SpaChina 2013
Coincidentally, Rachel Marsden recognized one of her favourite hangouts in Shanghai, the Elisabeth de Brabant Art Center on Fuxing West Road in Shanghai's former French Concession, from a photo of Leah's work hung on the wall of the stairway at the center. She comments on Leah's papercuts on her blog, "I like their site-specific nature along with their sheer magnitude, which makes you think about the enduring man hours that have gone into their creation."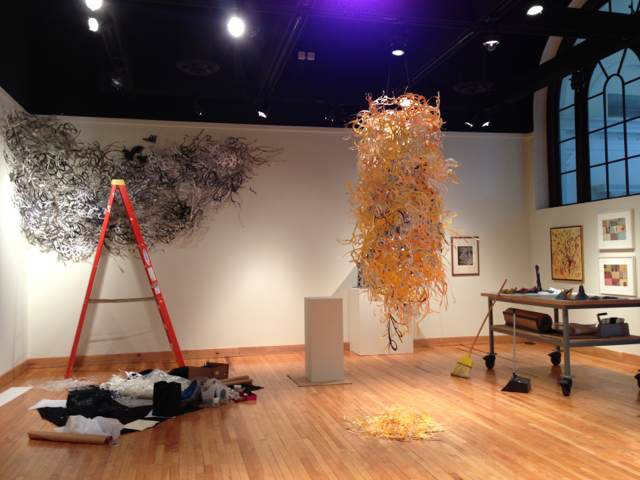 Also an excellent painter, Leah Wong is a great Qingdao artist with a rich, diverse background in China and the US. Check out her website for more info.
More on Leah Wong from SpaChina:
"Artist Leah Wong utilizes a new kind of artistic expression to create paper cutting works, transforming "art on paper" into tri-dimensional installations, by using one piece or many pieces of paper with different colors and qualities.
Leah was born and grew up in the northern China city of Qingdao. She was always fascinated by images from when she was young, from beautiful-designed and colorful candy wrappers, to paper-cuts and comic books. She also tried to make her own paper-cuts and copy from the images she liked the best. Over time, her love for beautiful images resulted in her participating in an after-school art club and attending a night-school art class when she went to middle school.
Years later, she got a job painting billboard advertisements for movie theaters which gave her a chance to get to know many wonderful art teachers and join an excellent young artists' group. Through the club, she was introduced to many art books and participated in many discussions about art, which gave birth to her dream of studying art in college.
With the guidance of art teachers and hard work, Leah passed the national exam in Beijing in 1981 and was accepted into the Zhejiang Fine Arts Academy, today's China Academy of Art. After graduating in 1985, Leah worked at the Shanghai Theater Academy as a teacher, where she met her future husband. In 1993, she decided to go to America with her husband, which became a turning point in her life.
She did not speak English and had no clear idea about life and work, and she experienced a period of confusion when she first arrived in America. But she overcame difficulties and found a way to survive. She earned an MFA degree in art from Ohio University in 2004.
She thinks that artistic development involves many kinds of self-critique. Dissatisfaction pushes artists to investigate new solutions. At one point, her personal life was altered in a fundamental way, and with it her cultural environment changed. She has changed direction several times throughout her art career. Leah was an oil painting artist in a realistic idiom when in China, and she became an abstract art student when she was in graduate school in the US.
Now, after leaving China for almost twenty years, Leah is bringing her art works back to China. "I value my Chinese traditions and embrace the differences with other cultures," she said. "I believe that an artist must pursue a unique personal voice in their art but the 'voice' always originates from their cultural background." Leah knows that it is difficult for her artwork to fit everyone's taste, but she tries her best to satisfy herself, and she trusts that sooner or later someone will share her taste.
She believes that Chinese people will come to understand and accept her works."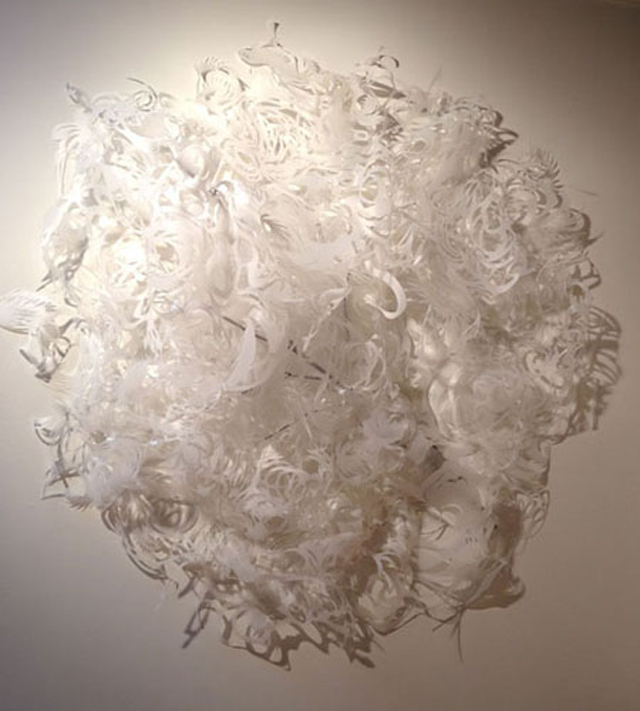 Relevant Links:
Qingdao Artist Leah Wong
Leah Wong Official Website