Join us at the NEW QAIS campus for Fall Festival this Saturday, October 13th, from 10am-1pm! We will be celebrating with Autumn themed activities, crafts, and games, as well as food and beverages from around the world. There will be activities for all ages, though we ask that adults be accompanied by a child. Click here for a map and directions!
The event will also commemorate the recent opening of our new location, just off of Hai'er Lu in the Shilaoren area. We are proud to offer state-of-the-art facilities for academics, sports, and co-curricular activities.
Please come and meet our community of educators and families, visit our facility, and join us in celebrating a new beginning for world class education in Qingdao. Bring a few friends!
If you would like more information about the event, or want to learn more about our IB (candidate) or Montessori programs, please email Info@QingdaoAmerasia.org.
We hope to see you this Saturday!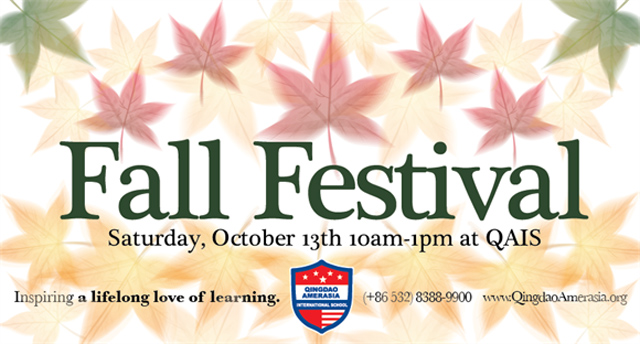 Relevant Links:
Qingdao Amerasia International School Official Website