Dalian based Aurora Yachts is currently making two 14.9 meter pilot boats for use by the Port of Qingdao. Aurora builds boats for the New Zealand company Naiad. Pilot boats are used to transport a maritime pilot to and from ships coming into a harbor. The pilot is someone familiar with the conditions of the local port and guides the larger ships into port. The job of maritime pilot has been performed in shipping operations for millennia, stretching back in history to ancient Greece and Rome.
The Port of Qingdao, one of the most important in China, is actually located in three different places: the Old Port is on the western side of Jiaozhou Bay in Qingdao's Old Town, and the development zone across the bay is home to Huangdao Oil Port and Qianwan New Port (with a recent extension at Dongjiakou). In 2009, the port was ranked among the top ten busiest ports in the world, coming in at number 9. The Port of Qingdao is also China's center of iron ore transport.
More on the Pilot Boats from Naiad:

Naiad's Chinese builder Aurora Yachts has begun construction on two 15m Pilot Boats for Port Qingdao. These state of the art Pilot Boats feature: six crew seating stations; foam fendering; clip on safety harness right around the vessel; powered by twin Caterpillar C12 inboards. The vessels are the 5th and 6th Naiad 15m Pilot Boats that Aurora Yachts have constructed. Previously they have built two for Port Dalian and two for Port Ying Kou, which were all launched in 2009 with great interest.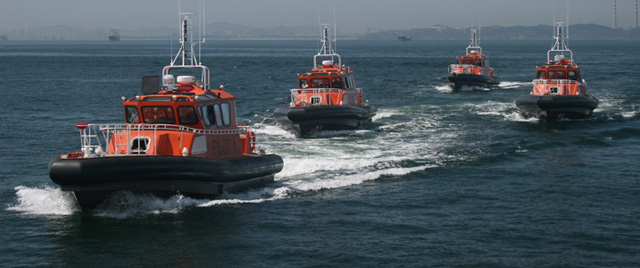 Relevant Links:
Aurora Yachts
Naiad
Port of Qingdao