Nova Heart performs in Qingdao at Cape No. 3 on September 9, 2011. The band is fronted by Helen Feng (ex-Pet Conspiracy, current Free The Birds) and includes guitarist Wang Hui from Free The Birds, bassist Bo Xuan (ex-Hedgehog) and DJ Rodion. Qingdao based band The Dama Llamas are the support act for the show.
Check out a video of Nova Heart from their debut at Mao Live in Beijing.
When: September 9, 9 pm
Venue: Cape No. 3 / 海角3号酒吧
Location: Qingdao Polar Ocean World Bar Street / 极地海洋世界酒吧街
Address: 59 Donghai Lu / 东海东路59号
Tickets: 50 yuan (RMB) advance, 30 students
Info: 135.8320.6332
More info on Nova Heart featuring Rodion:

Nova Heart is Helen Feng's (冯海宁) long awaited solo project. Upon culmination of her final whirlwind European tour as front-woman of the seminal Chinese electronic group the Pet Conspiracy (宠物同谋) in fall 2010, took a few days off in Istanbul to prepare the next steps for her current band Free the Birds(自游).

The powers of the city threw her and her partner DJ Metro Tokyo into raucous Raki-fueled nights through dizzying mazes of narrow alleys into the ancient discotheques of Constantinople. One fateful night, a chance encounter with Roman electronic-cowboy Rodion (Gomma Records) gave birth to NOVA HEART. After returning to Beijing, Helen set forth the arduous task of sending her self-produced tracks 3000 miles down the silk road to Rome where Rodion would tap them with his magic disco wand.

The outcome is a mix of sexy psychedelic disco with lo-fi ethereal pop vocals. A sinister disco beat buried under haunting soundscapes makes it sound like as if ghosts are dancing under a mirrorball.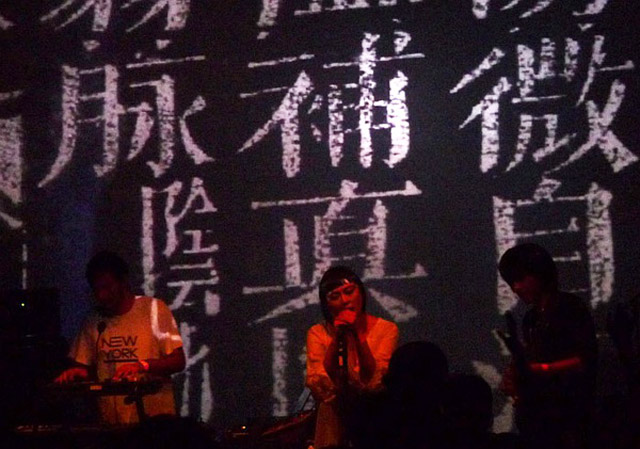 Relevant Links:
Nova Heart
The Dama Llamas