Check out the latest feature of Qingdaonese.com – our new mobile version (nicknamed MOBILEnese) is now live on mobile phones in Qingdao and all over the world. Search for and read about events, news, and weather in Qingdao from anywhere you access the net via mobile phone.
Now you can get up to date information about Qingdao right from your phone just by visiting Qingdaonese.com. Once you visit the site via your 'Smart Phone' you will automatically be redirected to the new mobile version. If you prefer to browse the full version of the site on your phone, simply click the 'Switch to Desktop Version' link in the footer at the bottom. If you accidentally click the link and want to return to the mobile version, simply clear your browser's cache and revisit Qindaonese.com.
You've seen everyone using smart phones like the iPhone to surf the web at places all around Qingdao like Starbucks and other popular hangouts. The trend towards mobile browsing is growing all the time as more and more people in China get online on mobile phones. Check out the trend – let us know what you think of our latest development – Qingdao's first and only city site designed for mobile phone browsing.
Qingdaonese.com Mobile Features:
RECENT (Home)
The first tab you will be redirected to is RECENT – here you can view featured articles/events and the most recent articles in order by date.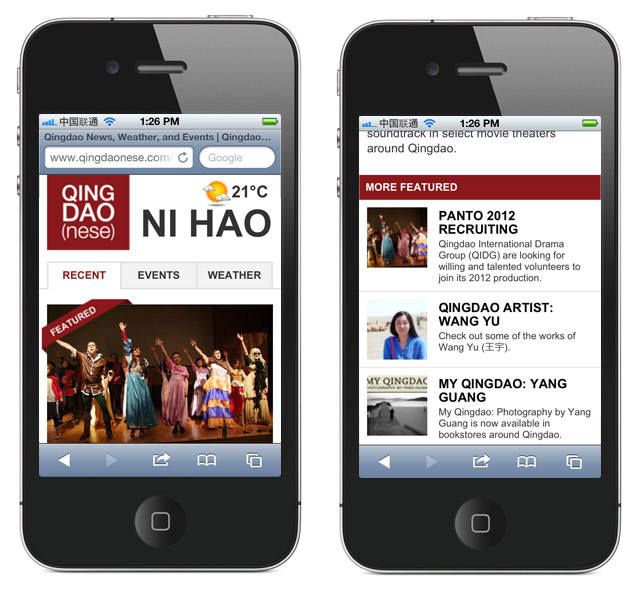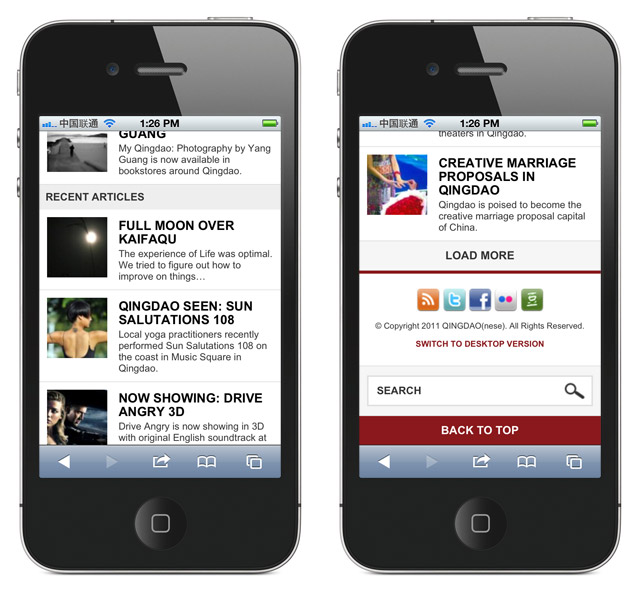 EVENTS
Out and about, want to know if there are any events going on today? Visit the EVENTS tab to view the highlighted featured event – today's events (if there are any), and upcoming events are in order by event date.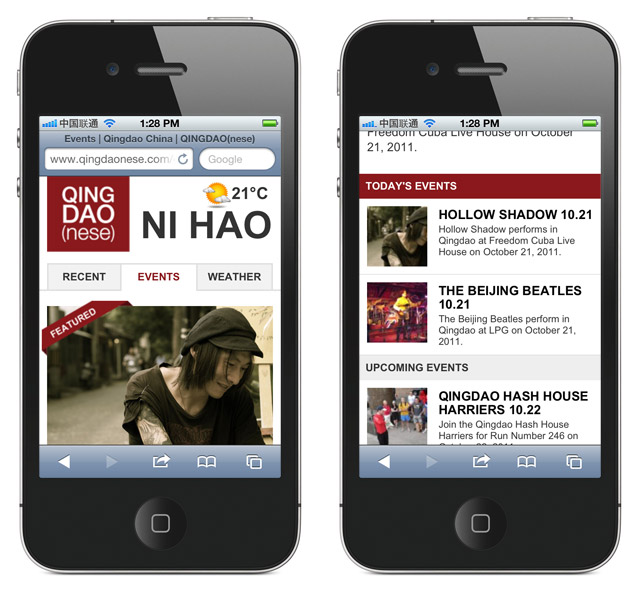 WEATHER
Need to know what the weather will be like tomorrow or throughout the week? Head over to the WEATHER tab and get the 9 day weather forecast along with the current weather.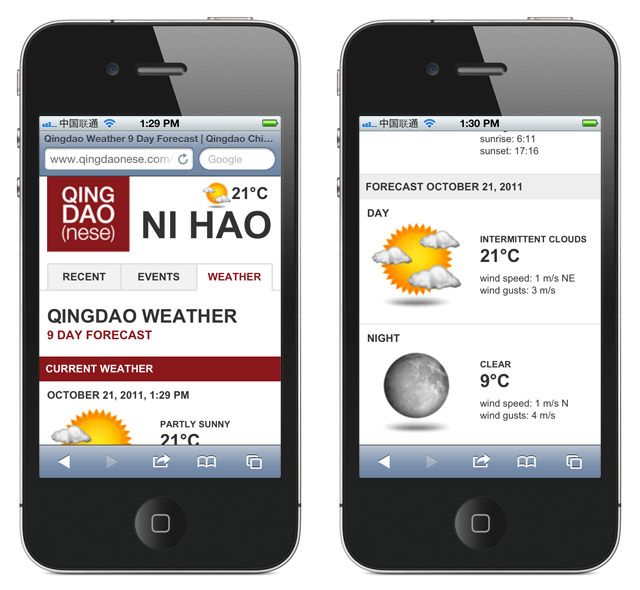 SINGLE (Article/Event Post View)
Once you view an article or event you will be taken to the actual single post view for that selected item. At the bottom of the post you will be able to share the post on the web with friends or continue browsing based on the relevant information available related to that article/event.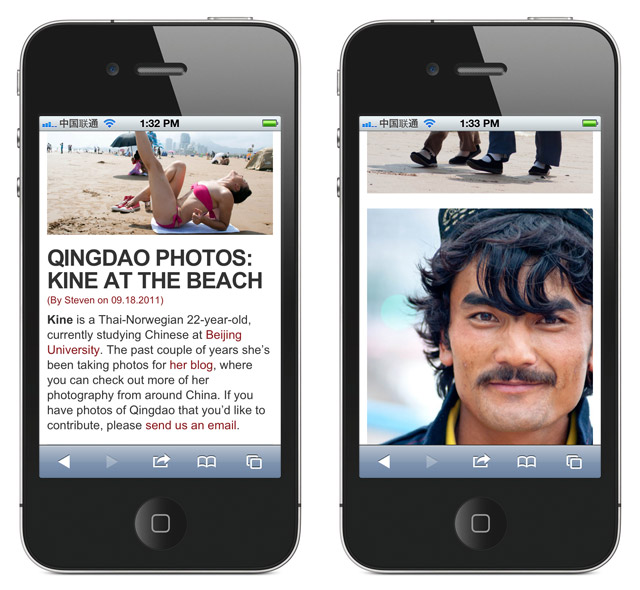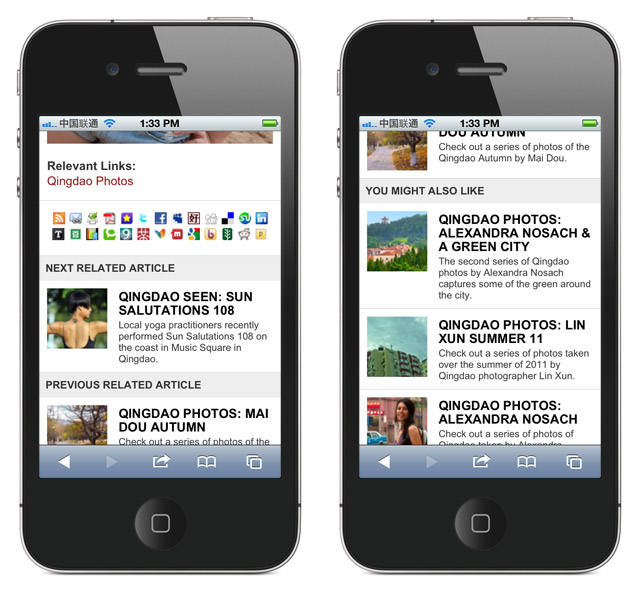 SEARCH
Not finding what you want? Type any search keyword or phrase into the search bar always located in the footer (very bottom) of the site. Our powerful search function searches the entire Qingdaonese.com database to supply you with the most relevant search results.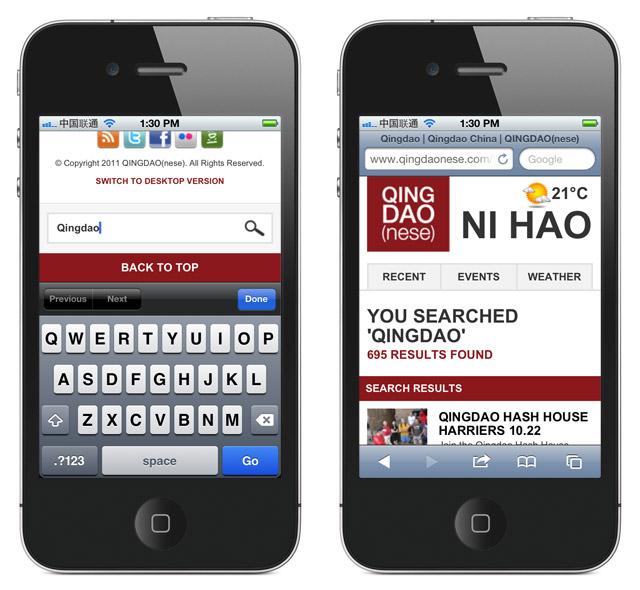 FLIP IT SIDEWAYS
If you don't like browsing sites vertically, just flip your phone sideways. MOBILEnese gives you the same mobile experience in either horizontal or vertical views.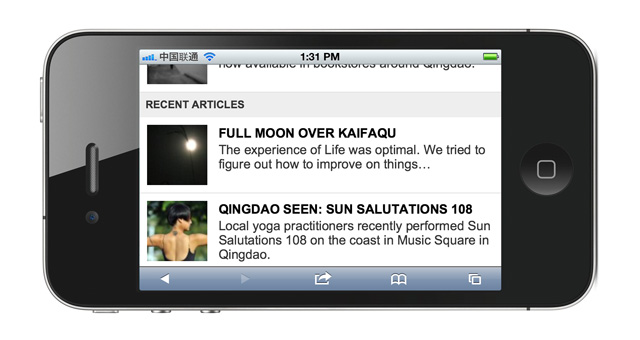 PLEASE NOTE: These features and screenshots reflect the initial launch (10/21/2011) of the Qingdaonese.com mobile website and may not accurately reflect the current version. These features will constantly be improved and expanded upon as Qingdaonese.com grows.
Relevant Links:
Qingdaonese.com