Dance with Lovebang at Downtown Bar in Qingdao on March 16, 2013. Manning the decks: DJ Caution, Heatwolves, and FeelGoodSmalls from Toronto. Downtown Bar is in Building 3 of Creative 100, the creative industries park complex located northwest of the Nanjing/Jiangxi Lu intersection in Shinan district. See map below.
When: March 16, 2013
Venue: Downtown Bar
Address: 100 Nanjing Lu (Creative 100) / 南京路100号
Record label and monthly dance party from Shanghai, PRC. No genres, lots of bass. We started the monthly night in a dive bar named Dada on a little street in Shanghai called Xingfu Lu, way back in April 2010. We play loads of different tempos and genres in the same night, and we always got that bass.
We don't care about genres, we just want you to dance. Anything from hip hop, dubstep, and ghetto house, to funk, disco, and R&B. Eclectic selections from an eccentric dude…See more at
http://www.facebook.com/lovebanguniverse
http://www.soundcloud.com/heatwolves
http://www.heatwolves.com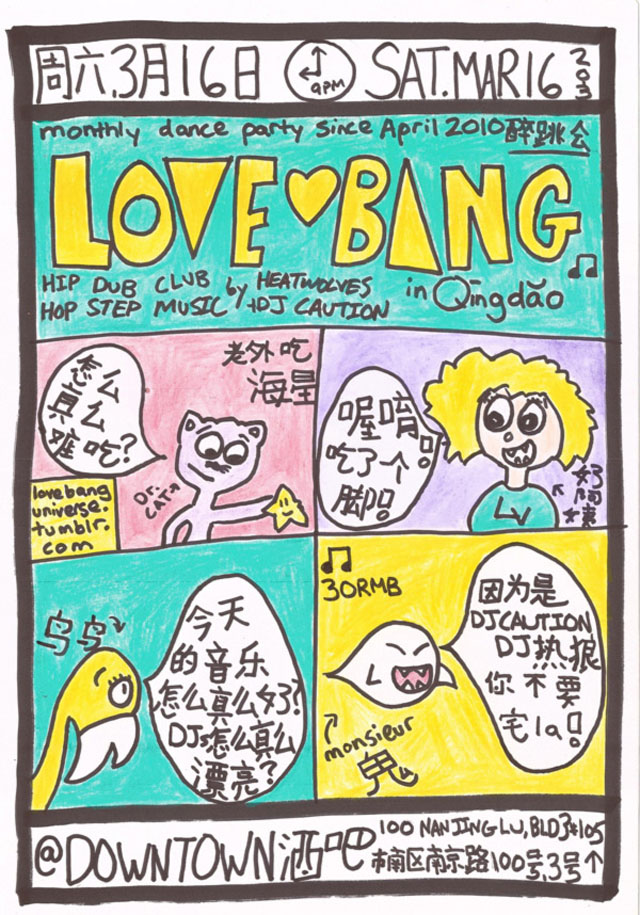 Relevant Links:
Creative 100 Online
Lovebang Online