World famous pianist and Shenyang native Lang Lang (郎朗) is scheduled to perform with the Qingdao Symphony Orchestra in Qingdao on August 20. Jointly organized by Baden Village and Haiyun Instruments, the concert starts at 8 pm and tickets run from 180 up to 2800 yuan (RMB).
Listen to Lang Lang on Myspace
When: August 20, 8 pm
Venue: Qingdao Sports Center Guoxin Arena / 青岛体育中心国信体育馆
Tickets: 2800/1880/1280/880/680/480/380/280/180 yuan (RMB)
Info: 8380.3353
Lang Lang is the Recording Academy (think Grammy) Cultural Ambassador to China and a worldwide ambassador for the 2010 Shanghai Expo. He has played piano for Obama, Putin, and Queen Elizabeth II, among many world dignitaries, and reaches out to musical prodigies through his philanthropical Lang Lang Foundation. He has played for conductor Zubin Mehta and even teamed up with the remarkable jazz pianist Herbie Hancock for a performance at the Grammies and a subsequent tour. Now Lang Lang is coming to Qingdao, so here's your chance to see the former child prodigy and world superstar live and in person here in Qingdao. Lang Lang will perform at Guoxin Stadium (国信体育馆) at the Qingdao Sports Center (pictured below).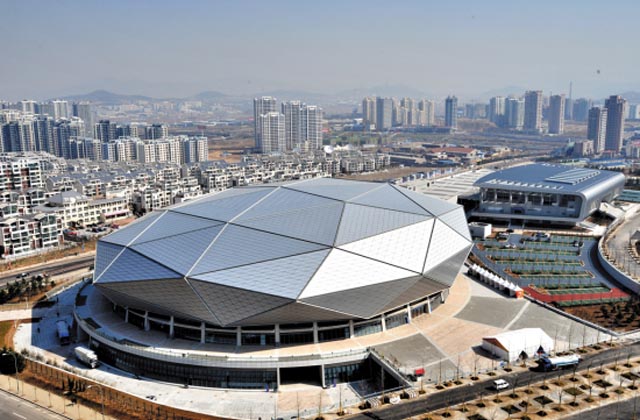 Relevant Links:
Lang Lang Official Website
Lang Lang Music Foundation
Lang Lang on Myspace
Event Info on Douban (Chinese)
Purchase Tickets Online (Chinese)