The Inter City Music Festival takes place at the Golden Sands Beach (金沙滩) in Qingdao from August 17 to 19, 2012. Golden Sands Beach is in the Huangdao Development Zone of Qingdao. View a map to the venue and a list of scheduled bands below.
When: August 17-19, 2012, 1 pm -10 pm
Venue: Golden Sands Beach / 金沙滩
Address: Huangdao Kaifaqu (Qingdao) / 黄岛开发区(青岛)
Tickets Cost: 100 yuan (RMB) per day
Tickets Info: (532) 5557.3637 / 400.610.3721
Slated to appear are Chinese stars Cui Jian, Pu Shu, and Lao Lang as well as overseas acts Peaches, Powerman 5000 and Louise Burns. Qingdao native Ma Xiaodong will have a homecoming with his band Escape Plan (formerly Perdel). Secondhand Rose, Reflector, and Convenience Store are also on the bill.
Festival tickets are 100 yuan per day. Buy tickets from Damai or call (532) 5557.3637 / 400.610.3721 (toll free). Visit the advance ticket office in Qingdao at Room 2203, 118 Nanjing Lu (near Zhonglian Plaza).
The Huangdao Kaifaqu is accessible from the Qingdao Liuting Airport by airport bus and from downtown Qingdao via the tunnel. Catch tunnel bus 2 or 6 from the west side of Tiantai Stadium on Wuchang Lu (near Zhongshan Park) and after exiting the tunnel, transfer to the Huangdao city bus 4 to the Jin Sha Tan (金沙滩) stop. The tunnel buses from Qingdao to Huangdao all stop at the Qingdao Railway Station.
There is also a ferry service with regular boats to old Huangdao, which is about 45 minutes from the Golden Sands Beach. On the Qingdao side of Jiaozhou Bay, the ferry terminal is on Sichuan Lu in the Xizhen area of Shinan district. After disembarking from the ferry in Huangdao, take city bus 1 or 18 from the ferry terminal into Kaifaqu area around Jusco shopping mall and carry on to the beach from there.
Get more info on Huangdao, Xuejiadao, and environs on the western side of Jiaozhou Bay. Visit the organizer's Weibo page for more info on the music fest.
Day One:

MC Hotdog (TW)
Deserts Chang 张悬 (TW)
Twisted Machine 扭曲机器
Suffocated 窒息
CMCB
No Fish 非鱼
Caffeine 咖啡因
Exit A 出口A

Day Two:

Pu Shu 朴树
Lao Lang 老狼
Powerman 5000 (US)
Secondhand Rose 二手玫瑰
Louise Burns (Canada)
Convenience Store 便利店
Escape Plan 逃跑计划
Finger Family 指人儿

Day Three:

Cui Jian 崔健
Tanya Chua 蔡健雅 (TW)
Peaches (US)
Reflector 反光镜
Cao Fang 曹方
The Cir 麦田守望者
Frida Andersson (Finland)
New Perfume 新香水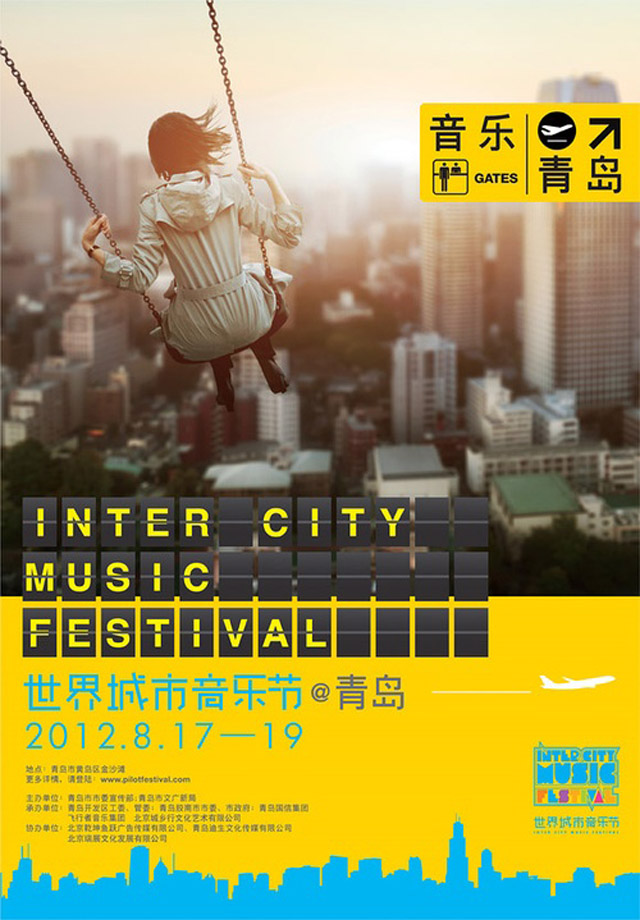 Relevant Links:
Huangdao 114
Inter City Music Festival Weibo
Music Gala Ready To Rock The Peninsula