ULTIMATE FRISBEE ON THE BEACH: Every Sunday afternoon, FUNQ (Frisbee Ultimate -n- Qingdao) wants to invite you to Shilaoren Beach to play ultimate frisbee.
FUNQ was formed in 2008 to bring the terrific game of Ultimate Frisbee (极限飞盘) to the golden beaches of Qingdao. We are basically a multi-national, multi-aged and mixed-gendered group which can be found on Shilaoren Beach tossing around the frisbee and playing pick-up games just about every Sunday during the warmer months.
Wondering what in the FUNQ is Ultimate Frisbee? Basically, it is a non-contact sport that combines the best elements of football/soccer, American football, basketball and netball, all with the fun of a flying disc. It's a really simple sport to learn and all skill levels are more than welcome to join. Although it certainly is a competitive sport, the FUNQers pride themselves in always keeping it friendly, fun and barefoot; then there is the non-imperative closing down of a good practice by turning up some Tsingtao Beers. See this instructional video for more details about the game of Ultimate (with Chinese subtitles).
There are several great frisbee tournaments around China each year and we hope to make it to several this season. FUNQ has been racking up the Party Awards across China the past couple of years at such tournaments, and hopes to pick up a few actual ultimate frisbee competition trophies in the coming season. So if your want to join in on the fun, or just curious to see what it's all about, come join us at Shilaoren.
If you are interested in joining, it is recommended that you get on the email list in case practice is canceled due to weather or the team being out of town for tournaments, etc. Just shoot an email to FUNQingdao@gmail.com with the subject line, "I want to FUNQ."
Check out some highlights from a U.S. tournament.
What: Ultimate Frisbee
When:Every Sunday at 2:00 pm
Where: Shilaoren Bathing Beach (石老人海水浴场) (usually located a little east of the center of the beach, next to the tower in the team photo on this page)
Price: Free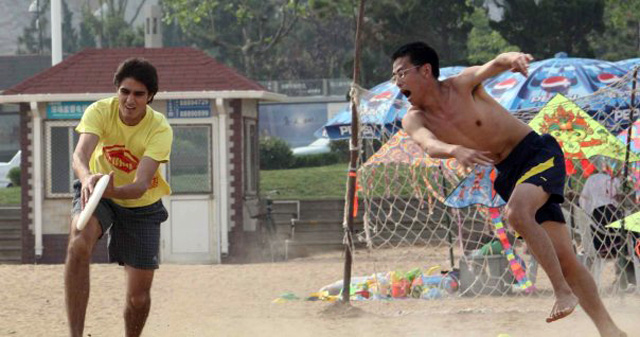 Relevant Links:
Shilaoren Beach on Google Maps