DJ Alta performs at the Downtown Bar in Qingdao on August 11, 2012. Cover is 30 kuai at the door and Tsingtao beer is free from midnight to 12.30 am – call 134.5524.7795 for more info.
When: August 11, 2012
Venue: Downtown Bar
Address: 100 Nanjing Lu (Creative 100) / 南京路100号创意园
Downtown Bar is in Building 3 of Creative 100, the creative industries park complex located northwest of the Nanjing/Jiangxi Lu intersection in Shinan district.
After moving to London in 2006, Alta soon became a regular at seminal club night FWD>> where he became inspired by the dark sounds of grime and dubstep. Soon after he started learning to DJ and after a few months got his debut at Herbal in Shoreditch. Taking his time to learn his craft and immerse himself in an even wider range of music, including emerging genres like UK funky, Alta continued to play sets at clubs across London, including the legendary Ministry of Sound.

Moving to Nanjing, China in 2011, Alta continued to push his distinctive style of DJing, drawing upon an eclectic mix of club music from the last twenty years. In his time in the city he played at all of Nanjing's venues for underground music – Castle, Fuze and 61 House. In April 2012, he made his Shanghai debut at the city's leading bass music night, Wonky Kong, supporting UK garage legend Zed Bias. After relocating there permanently in July of that year, Alta went on to join the seminal DJ and promotions crew Phreaktion.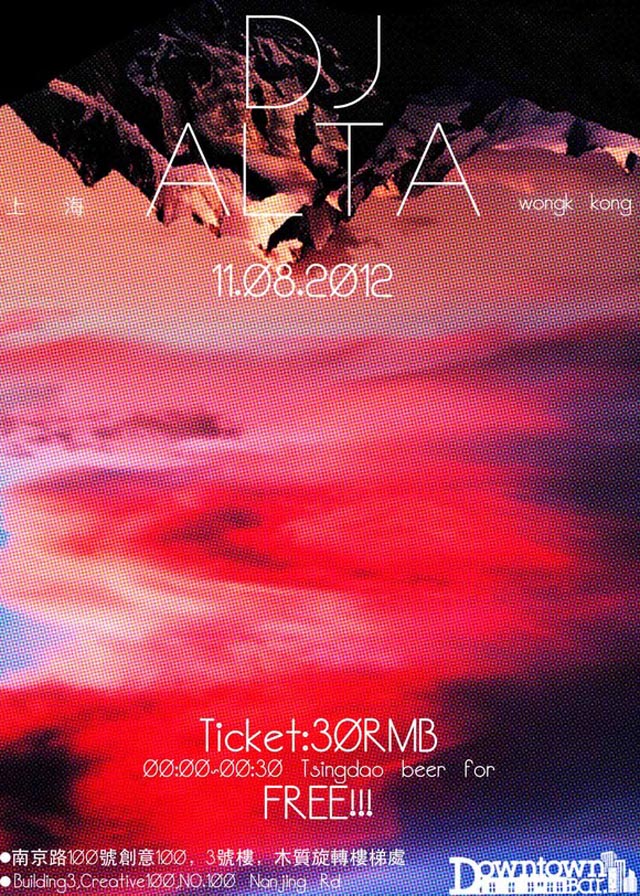 Relevant Links:
Creative 100