Hometown punkers Demerit perform 2 shows in 3 days in Qingdao and Huangdao. The first is at Downtown Bar in Qingdao for a special New Year's Eve show on December 31, 2012. Then, check them out at Sailing Bar in Huangdao on January 2, 2013. Listen to the Vans Warped Tour alumni on Myspace and on Douban.
When: December 31, 2012
Venue: Downtown Bar
Address: 100 Nanjing Lu (Creative 100) / 南京路100号创意园
Tickets: 50 yuan (RMB) at door, 40 pre-sale
Downtown Bar is in Building 3 of Creative 100, the creative industries park complex located northwest of the Nanjing/Jiangxi Lu intersection in Shinan district.
When: January 2, 2013
Venue: Sailing Bar, Huangdao/Kaifaqu Development Zone
The Sailing Bar is located in Huangdao Kaifaqu Development Zone, next to the Ibis Hotel on Changjiang Lu. You can take any tunnel bus route that stops at the "Qu Zhengfu". Look for the club shaped like a boat in the middle of the park on the square behind the Ibis.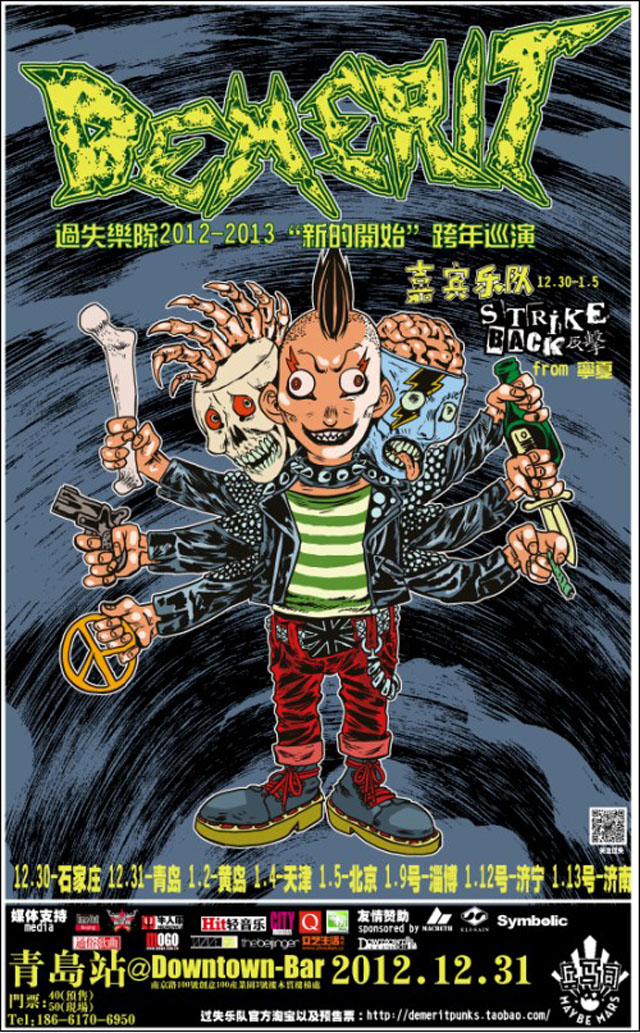 Qingdao Venue Location
Huangdao Venue Location
Relevant Links:
Demerit