The November issue of the Qingdao arts & events publication Arteffect features an interview with members of the Qingdao based rock band the Dama Llamas. Look for Arteffect at cafes, bars, galleries, and schools around Qingdao.
Excerpt from Arteffect interview with the Dama Llamas:
Band Lineup:
Weak: Vocals (CN)
Neil: Guitar (UK)
Seabass: Guitar (US)
Joe: Bass (US)
Liang Dong: Drums (CN)
How did you get involved with the band?
Neil: Actually that was in my list of things to do before I came to China. I figured I'd travel, teach and play music for a year then go back home. But after I got here I discovered this vibrant and burgeoning music scene – loads and loads of unique bands playing every night. Not in this city unfortunately, but Beijing, Shanghai, Guangzhou, Changsha, Wuhan and Chengdu have scenes and are regular stopovers for touring bands. Beijing's is the best, and is one of the reasons that I'm still here.
Seabass: I was in a band in Seattle called Cast of Characters. When I left to come to China our band was doing awesome but I was frustrated by how many amazing bands there were in the Seattle area and how so few could actually make a living by just playing music. It is incredibly hard to party like a rock star and then wake up at six the next morning and be at your day job for the next 10 hours. When I came to China I really thought my days of partying, drinking, and playing in bands were in the past. Turns out I moved to the Beer Capital of China and met the best guitar player in the world, Neil. We started jamming and it was a blast. It was so much fun I stopped hanging out with my girlfriend who moved out to China because of me so I could practice, drink and party. Sorry about that. Neil and I were writing original material that sounded great and was fun to play. Before we knew it, we had picked up a bass player, Ezra, a drummer, Rory, and an ex-stand up comedian turned singer, Ronzo. The Dama Llamas were formed.
Joe: The hardest part of coming to China was leaving my band back home. By the time I came out here my friend Bobby– who was already here– had met these guys and told them I played the bass and that I was on my way here. Upon meeting Neil, he said to me "You play the bass? You're in my band." I didn't have a bass with me, so Neil bought me a bass on my very first day in China. If a guy buys you a bass, you kind of have to play in his band. It's been awesome rockin out ever since.
Weak: I was in a band at university, but like at other universities, the leaders of the school didn't support bands, as they thought we were troublemakers (even though I got a scholarship every year). So we just got a small room and poor instruments, and it was hard for the band to grow. But we were still alive until in 2008, after I started working at Redstar with Neil. The Dama Llamas were doing a "Luan Hong Hong" gig with my band as support, and that was how I met these awesome guys. Later, my old band Cheese broke up after we all graduated and moved to different cities, but I still kept my faith in rock. I knew that young people like me need rock, and we can show them what it should be. After the MAX08 in March 2008, I toured with the Dama Llamas to Beijing and back to Qingdao, and they invited me in, and it's honestly my pleasure, a dream come true.
Liang Dong: I love rock music and the whole process of working with a band, it's a really rewarding and meaningful experience.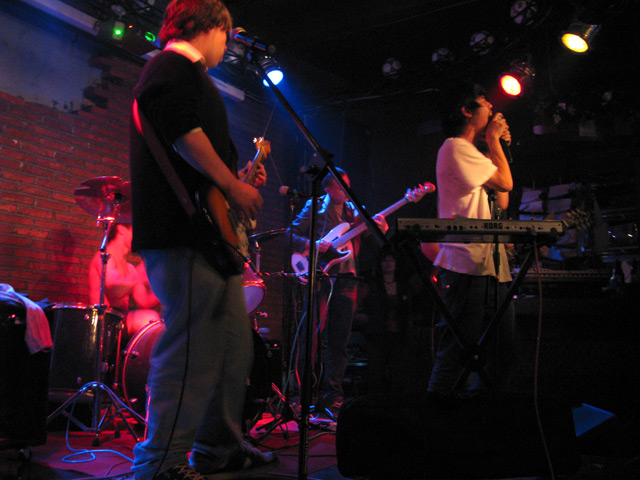 How is life on stage in QD? Compared to other experiences in other places?
Neil: Stage? There aren't any. I mean there aren't enough bands in this city to justify a real live bar for original music – now that Freedom Cuba is… wherever it is. The music that is here is here because it makes the venue profitable. Whenever we play in Qingdao we provide all the equipment. That's fun though, riding up in a big van pulling huge amps and drums out of the back. On the other hand, Huangdao is up and coming, and there's a bar called Caribbean right on Golden Beach with a big pirate ship out the front. The people that started it are Qingdao lads that have all been in fairly successful Chinese bands, spent chunks of the last ten years living and playing punk rock in Beijing. Demerit are the most widely known band in that contingent, though I don't think they're actually involved in running that venue. The company that I work for organizes and promotes gigs though. When bands from other cities in China want to come to Qingdao, I find suitable venues and equipment, and promote them. They usually play at the Redstar office. It's all very DIY though. And we sometimes put on under-the-radar nights at the university, we'll rent a restaurant for the evening and nail the place with flyers the night before, then rock up the following day and make it crazy. Those nights are called Luan Hong Hong, which means a nutty mess of noise.
Seabass: Compared with playing in Seattle, on stage in China you definitely see more blank stares, light up swords, and awkward situations. However, being on stage anywhere is a blast and very addictive. I've found that some of the most fun shows are the ones where there is hardly anyone there so you just let loose and have some fun. The situations we get into during these shows are half the fun. It'll be the day of the show and not one of us will know the time we are supposed to play, what type of gig it is, how long we are supposed to play, if we are getting paid, etc. and its not for lack of trying to get the information. My favorite gigs are the ones Neil mentioned called Luan Hong Hong. Mainly because we set up the gig, its all our equipment, it's free with cheap beer and it allows the college students to come out and get rowdy, drunk, and hopefully laid. We should actually start passing out condoms. That'll be awkwardly fun.
Joe: While I agree with Neil, there aren't a lot of legit live music venues, I have to say that I've never performed live so frequently, so there are places to play. Every show we play is different, too. You never really know what is going to happen. I like the first half hour when we arrive for a gig in a place we've never been. It's hilarious to try to figure out where we can plug things in, where to put the amps, where to put the drums, how many mics we have, can we get one more mic? And like Seabass said, sometimes you get the feeling people don't know how to react to us, but other times – like the Luan Hong Hong – it seems like people are just dying to rock out.
Weak: Ha, when I was a student, I went to Beijing for music festivals and some gigs in Qingdao. I grew up here and I know this city. Over the past 20 years, some bands worked hard, and some, like Demerit, got famous. But most bands finally choose Beijing. The shame is the lots of people like KTV or pop star more than live rock bands in China, because they don't have that experience and misunderstand it. They only think if someone plays in a band that it is kind of cool or freaky, but they don't know how to enjoy a live show, how to have fun, get themselves into it. I'd like to tell you how I always felt at our shows in school, when some teachers sitting in the front did nothing but put their fingers into their ears, that sucks!! So our job is showing them a new world.
Liang Dong: Qingdao's live music scene is still developing. As long as we all work together, I believe we can make it better and better. I hope we have the ability to create a scene and do things our own way.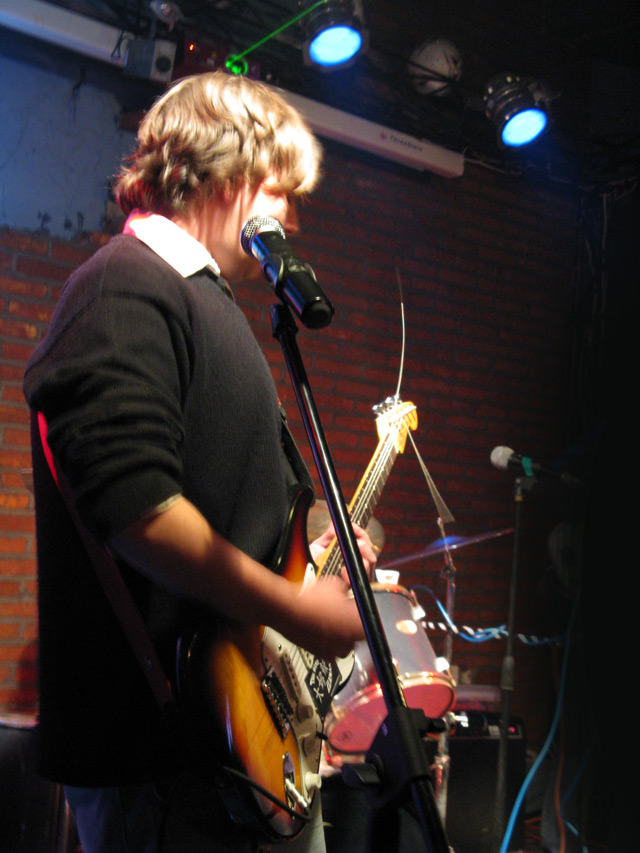 Who's the cute one / the funny one / the shy one / the shuai one / the most trained / the hardest working?
Seabass: I think Neil didn't answer this question because he really wants to put himself down as the cute one.
Cute: Weak
Funny: Pshhhh, I'm hilarious.
Shy: LiangDong but he is definitely been coming out of his shell lately.
Shuai: Joe, the Chinese ladies dig him even with a nasty goatee
Most Trained: Neil
Hardest Working: Neil
Joe:
Cute: Have you seen us? We're funny looking. I'll have to go with Weak, cuz girls like singers, but he funny looking, too.
Funny: Seabass. Constant cries for attention. "Look at ME!"
Shy: Yeah, LD, but I think we also just talk in English a lot and he doesn't know what we're saying.
Shuai: I don't know what this means, but an online translator tells me that Seabass thinks I'm either a commander, falling down, or a cricket. I do have a nasty goatee.
Most Trained: Neil. Definitely. His knowledge of scales and arpeggios is unrivaled. But lately I've been trying to make the most of vocal training I got from years of school choirs. Adding harmonies and stuff.
Hardest Working: Neil.
Weak: Yeah! I agree!! Especially on the cute one! Haha!! But Liang Dong was encouraging me to ask for phone numbers of girls. I think he does have more experience than we thought, haha.
Liang Dong: The other guys are all smarter than me, haha. Seabass is the funniest one. I'm the shy one. Weak is the shuai one. Joe is the most trained. Neil is the hardest working.
You can read more in the Nov 09 Arteffect. For more info please call 136 6886 7325.
Relevant Links:
www.thedamallamas.com
The Dama Llamas on Myspace