The Qingdao (Tsingtao) Beer badminton team has been declared the 2011 champions of the China Badminton Super League. This is the second year in a row for the Qingdao team to take top honors. The league was formed in 2010 with 8 teams featuring some of the world's top players including world number 1 Lee Chong Wei from Malaysia and Chinese Olympic medalist Lin Dan. This year, Qingdao defeated Hunan on April 30th to take the 2011 title with victories coming from women's singles winner Wang Xin, men's double team Fu Haifeng and Shen Ye, and women's doubles duo Qiu Zihan and Ma Jin.
Final results for the 2011 season
Winner: QINGDAO Beer
Runner-up: HUNAN Xiangcai Securities
2nd Runner-up: BAYI Dongling Refineries
4th place: WUHAN Hubei Autocity
5th place: ZHEJIANG Yinjiang
6th place: GUANGZHOU Yueyu
7th place: JIANGSU Yonex
8th place: SHANGHAI Zwick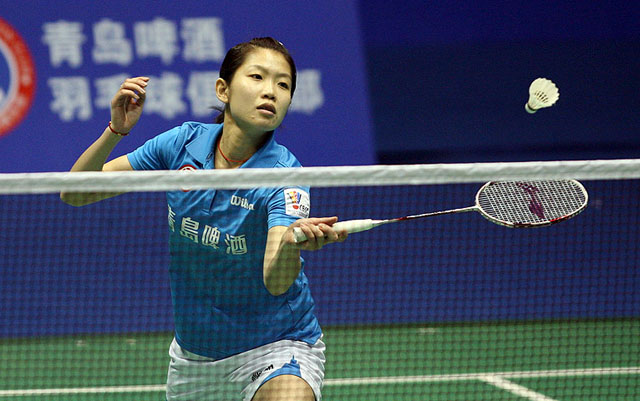 The two-year-old China Badminton League closed its chapter on the annual badminton calendar on Saturday, with Qingdao declared champion and Hunan following closely behind with Bayi tailing along. Coincidentally, these three names in order displayed a complete duplicate of the final results last year.

On Saturday, April 30th Beijing time, the China League's defending champion, Qingdao Beer took on the previous year's runner-up Hunan Xiangcai Securities in a final battle.

According to the league's regulations, a team is declared champion if placed top of the list twice at the end of both cycles. If a different team grabs the first place in the second cycle, the team with a higher ranking within top four in the other cycle wins.

With a #1 finish in the first cycle, the Qingdao-Hunan match on Saturday was the utmost deciding match for the former team, who were still fighting for the last ticket into the top four of the second cycle, hoping to grab the final victory of the league. If first cycle's runner-up Hunan had won, it would have been a taste of victory for them instead, while Qingdao would have fallen off to the 7th place in the cycle, ending the season only as the second runner-up.
Watch matches from the 2011 China Badminton League online.
Relevant Links:
China Badminton Association (Chinese)
China Badminton League Revived