The new issue of Arteffect is coming out this weekend. Here's an excerpt from FEB 10, No. 7, regarding the live music scene in Qingdao.
Build It… (and Maybe Someone Might Show Up Some Time In The Future)

It should be a rule of thumb that any city with an international airport should have a place to go see original live music on a regular basis. Leaving arenas, hotel pubs, and theaters aside, what Qingdao needs is a place that can be loud and noisy if it needs be, and messy if wants to be. The bathrooms should have a choice lot of grafitti and the drinks are best cold, cheap and plentiful. Some live music venues can be a bit upscale, and that's ok too, especially if they have a nice selection of beers on tap and a regular set of patrons with an ear for good music. Some nice looking lads and lasses never hurts, either. The venues could bring in whatever kind of music fits the clientele, positioning themselves as a place to see a band good enough to deliver a solid set of original songs, with a cover thrown in as an encore for fun.
Venues come in all sizes and ages, like the small, grungy d-22 and the historical Yu Gong Yi Shan in Beijing. Mao Livehouse has excellent stages in both Beijing and Shanghai, with terrific equipment and great sound, a real musician's venue. Also in Shanghai, Yuyintang is never big enough for when bands like Hollerado come to town, and the sold out SRO crowds signal that the place is how Goldilocks likes things, just right. Add the Dream Factory, a couple jazz bars (with real jazz in them!) into the mix, and before you know it, there's a scene with the right to play music where fans show up and the cops don't. A perfect example of the kind of place we need here in Qingdao is the Vox Bar in Wuhan, where you can see a band almost every night of the year, for a reasonable cover charge.
Unfortunately, that's not the case in Qingdao. La Villa and Lennon are two stand alone structures capable of hosting original live bands, but the management of both of these now (understandably) concentrate more on food service, in true Jerry McGuire fashion. A recent notable exception was the appearace of Sound Fragment at the Lennon, and the house was full from the start to the end, but somehow the crowd slipped away into the night and the party was over by 11 pm for sure, and no one knows if and when there will ever be another show like this one. Being in the shadow of the East Municipal Hospital probably doesn't add to the vibe. Also, it should be noted that the sound at the show was rather rubbish, with the barely audible vocals very fuzzy. The real problem is though, this show was an anomoly, and the fact that about 150 people came out on a cold Sunday night and sang along with one of their favorite bands was sadly not enough to remind anyone that we should be able to do this all the time.
This is not a knock on the very decent bands that regularly play at Lennon and New York, or even Q Bar. But even on a good night, a house cover band cannot match the intensity and creative fire of a "real" band, and the real pity is that the players in those house groups know it, and even dream of playing their own music. These guys are usually talented enough to play some really good tunes but just can't break out of the golden handcuffs of a commerically viable formula. If anyone has any questions on this rather stiltifying set of circumstances, you should consult with the best bassist in Qingdao, Joseph or the one of the authoritative voices for music in town, Marc the ex-bK's guitarist. They both know very well what many don't even think about when it comes to music here: if no one supports your creative efforts, you're kinda left holding a heavy bag of empty promises.
When we talk about why there isn't enough good live music in Qingdao, the question always comes back to the dearth of venues, the lack of good bands, and perhaps most important, an audience for original acts.
Freeman hosts some folk nights, but like King's Head, they can only have the soft stuff, and then only to about 10 pm. They've had middling success getting tushes in the door for some pretty decent acts like Ma Tiao. Creative 100 used to let the generally well attended and heavily publicized MAX have its way with the facility's fifth floor, but even then the boys in blue would turn up and pull the plug early on the hundreds in attendance.
As for the Jazz bar, the place has probably never even seen a jazz CD never mind a jazz band, and the local pop and rock players who used to jam there in the early days and also later at the now defunct La Luna have packed it in and bitterly kissed off Qingdao as a barren den of nightclub singalongs and bullshit discos. About the only place in Qingdao that can really rock until late is Club New York, and while their commitment to sustaining live bands is admirable, the bottom line is still the bottom line, and you just ain't gonna see Sulumi play there anytime soon. The new Owl Bar (aka Hooters) has some of the same people who used to make ears ring over at the now closed Cuba Libre, (which finally cried uncle, gave up on trying to drag people out of the KTVs, and shuttered just this past Fall), and this theme bar in the Olympic marina bar district has hosted some great shows, (e.g. Spring and Autumn, unplugged) but unfortunately is cleverly hidden miles from anywhere people generally spend time.
There are some occasional shows at places like ssLPG and the Old Church Lounge, but they suffer from the same problems related to attendance, neighborhood noise thresholds, and the age old struggle to make a buck, or at the very least, to break even. Which leaves us with REDSTAR, who have hosted some of Beijing's best bands like Carsick Cars, ReTROS, Ziyo, and The Subs, and quite a few quality overseas acts like Headache, Moses Hazy, Hollerado and Immaculate Machine. Lest we neglect to mention a Qingdao band that plays original music like they mean it, the Dama Llamas have frequently supported and headlined at REDSTAR. It's just that the guys up in 401 are just not fiscally nor logistically able to swing a show once a week never mind a couple times a week as it should be in a city of this size. People say Qingdao has 7 million residents and then you ask, where is the music? Another good question is where is the livehouse? A third, more puzzling query is, where are the punters? Build it and maybe someone might show up some time in the future. We'll never know unless someone tries. It's either that or lose the routes to Osaka, Singapore, Bangkok and Seoul.
– Clay Army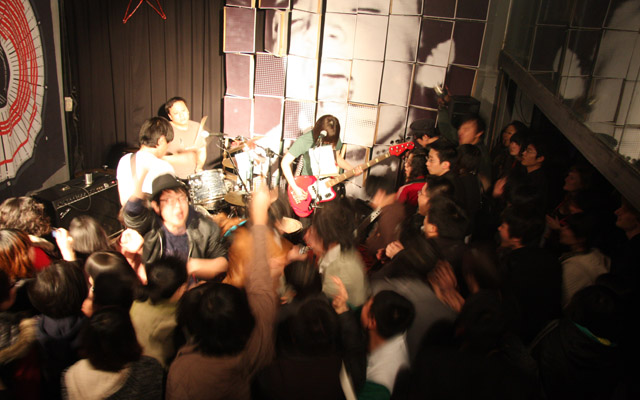 Relevant Links:
Arteffect Magazine Website
China Music Radar
Chinese Indie Music on Neocha