Connect with Qingdao people and places on Qingdaonese.com: "a medium for everyone with an interest in Qingdao". Qingdaonese.com was founded in 2009 with the aim of helping people discover Qingdao, China.
Feedback: info@qingdaonese.com.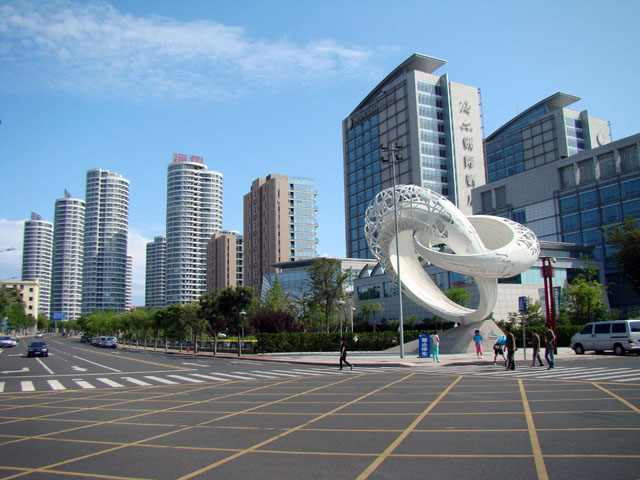 Consistently called one of the best places in China, Qingdao is the hometown of the world famous Tsingtao Beer, which is still produced at the original Tsingtao Brewery founded in 1903 on Dengzhou Lu, aka "Beer Street". The international legacy of Qingdao mainly stems from its German colonial past but also involves the effects of Japanese control and influence from 1914 to 1945, and the impact of being host to a large number of foreign nationals including American, Russian, British, Danish and Canadian tourists, missionaries and business people, as well as US soldiers such as the Marines shortly after WWII and prior to Liberation in 1949.
Located on the eastern shores of the Shandong Peninsula on the Yellow Sea, Qingdao itself is a peninsula hooking west from the Laoshan mountains to Jiaozhou Bay where the westernmost tip of the city (an area known as Tuandao) looks out on Huangdao and Xuejiadao, also called the Qingdao Economic Development Technology Zone, or just Kaifaqu (Development Zone).
Qingdao is a great place to visit, work, live, vacation, make friends, fall in love, shop, go to the beach, swim in the sea, go sailing, and much, much more. Major attractions, activities, and sights in the Qingdao area include: May 4 Square, Old Stone Man Beach, Laoshan, Huadong Vineyards, Little Fish Pagoda, Taiqinggong Temple, Zhan Shan Temple, Underwater World, Lu Xun Park, Zhongshan Park, Qingdao Olympic Marina Sailing Center, Qingdao University, Ocean University, CBA team Qingdao Double Star Eagles, and home of the Qingdao CSL football team Qingdao Zhongneng (Jonoon), Tiantai Stadium.
Homegrown Qingdao employers and brands include: Haier, Hisense, Aucma, Tsingtao Beer, SPR Coffee, R Collar, Bank of Qingdao, and Laoshan Water.
Qingdao and surrounding waters including Fushan Bay was the site of the Sailing Regatta of the Beijing 2008 Olympics. Informally called the Sailing City, Qingdao is one of richest cities in China, a member of the exclusive original Special Economic Zones designated by the late Deng Xiaoping as areas open to the world for trade and commerce after the Reform and Open Door Policy began in 1978. The Port of Qingdao is one of the largest in China, and the city's economy is inextricably connected to shipping, shipbuilding, logistics,container yards, and warehouses.
Qingdao has an intriguing yet relatively short history as a municipality dating back to the 1890's. Control of the area has passed from China to Germany to Japan to US to China again. Read "Qingdao: A City of Movement" for info on Qingdao modern history.
According to the Qingdao City Official Government Website: "On June 14, 1891, the Qing government established a garrison in Jiao'ao, which represented the beginning of Qingdao as an administrative division in China. On November 14, 1897, German troops occupied Qingdao under the pretext of the "Juye Religious Incident" and turned Qingdao into a colony, which caused the "Reform Movement of 1898″ by reformers in the Qing Dynasty. After World War I broke out in 1914, Japan replaced Germany to occupy Qingdao.
The famous "May Fourth Movement" was triggered by the calls for the recovery of Qingdao, which was the watershed of China's contemporary history and China's modern history. On December 10, 1922, Chinese Beiyang government took back Qingdao and transformed it into a commercial port. The Kuomintang government designated Qingdao as a special city in July 1929 and renamed it as Qingdao city in 1930. In January 1938, Japan reoccupied Qingdao.
In September 1945, the Kuomintang government took over Qingdao and designated it as a special city again. On June 2, 1949, Qingdao was the last city liberated in North China and placed under the jurisdiction of Shandong Province."
Wherefore art thou, QINGDAO
(nese)
You can be QINGDAO(nese) no matter how you are connected to Qingdao. It doesn't matter if you are in Qingdao long term or short term, for whatever reason life brought you here, regardless of whether you were born here, lived here in the past, present, or are coming here in the future. If your life includes a part of Qingdao, then be proud and call yourself QINGDAO(nese).
QINGDAO(nese): a medium for everyone with an interest in Qingdao.
To contribute, please contact info@qingdaonese.com.