The 2011 World Judo Grand Prix returns to Qingdao on December 16-18, 2011. The Grand Prix will be held at the same place as in 2010, the "Diamond", Guoxin Arena (next to the Qingdao Sports Center Stadium) in Laoshan district. Download the event's official presentation for more details including the daily schedule.
More than 600 judoists from over 60 countries are scheduled to compete. The event in Qingdao is the final Grand Prix of the year. Qingdao's importance on the circuit is emphasized by the awarding of greater points here than at any other event this year. Winners will receive 200 points towards qualification for the 2012 London Olympics (compared to 100 points at this year's previous events).
When: December 16-18
Venue: Qingdao Sports Center Guoxin Stadium / 青岛体育中心国信体育馆
Info: Chinese Judo Federation (Beijing) (10) 6701.2281
Info: Qingdao Municipal Sports Administration 8197.7070 / qdscmc@163.com
The competition begins December 16 at 10 am, after the official weigh in at the Haitian Sports Center Hotel at 7 am. The opening ceremony will be held in the morning on the 16th at Guoxin Arena. There will be daily awards ceremonies after each final. The organizers will disburse prize money totaling 100,000 US dollars during the 3 day event.
More on the Grand Prix from International Judo Federation (IJF) President Marius L. Vizer

We have now entered the final stretch before the London Olympics Games that will be held next year. Each event counts, every point is important. Athletes around the world will again be confronted on the tatami of the Judo Grand Prix, Qingdao 2011, to win a medal. The Grand Prix of Qingdao is also the last major event of the year, which will determine the final 2011 world ranking list that will allow us to invite the top 16 athletes per weight category to participate in the World Masters, Almaty 2012.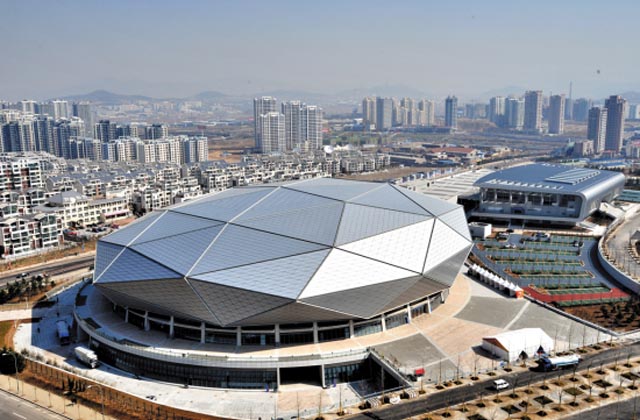 Relevant Links:
International Judo Federation
Photo Credit @ Tamas Zahonyi