The 2010 Qingdao International Beer Festival will be held August 14-29 at the Qingdao International Beer City near Shilaoren in Laoshan district. This year marks the 20th anniversary of the festival which employs thirsty Chinese zodiac animals as mascots for each year's celebration. Beers from around the world are on tap and Tsingtao Beer figures prominently on the scene with home field advantage. Tents for popular brands in China such as Erdinger, HB and Weihenstephaner sit next to Budweiser, Carlsberg, and Heineken. It's time for Qingdao's longest running and most famous festival, the Qingdao International Beer Festival.
The annual celebration of barley, rice, and hops in Qingdao is held on the fairgrounds at the intersection of Qingdao's Haier Lu and Xianggang Dong Lu, aka Hong Kong East Road, paved and named in 1997 around the time of the HK handover. This corner of Qingdao comes alive for 2 weeks each year with beer tents, carnival games, rides, and vendors using the gaudiest costumes and loudest music at their disposal to attract and entertain the laobaixing. The theme of the Qingdao Beer Festival is slamming glasses, mugs, and pitchers of beer in a perfect storm of ganbei culture. Combining drunken public karaoke on big stages with performances by dancers and singers in every tent, it is the perfect place for revelers who, in the words of the late Frank Zappa, "Seek the path to the sudsy yellow nozzle of their foaming nocturnal parametric digital whole-wheat inter-faith geo-thermal terpsichorean ejectamenta". Check out a video of table top karaoke by one of the performers from 2009.
What to Expect:
The opening ceremony will be televised throughout China on CCTV and broadcast live in Qingdao on QTV. There will be gala performances from dancers and singers, capped off by a huge fireworks display. The closing ceremony follows the same typical festival pomp and circumstance and a fireworks show. Come to the think of it, pyrotechnics are likely to be seen on some scale almost every night of the 2 week celebration, making it kind of like Chinese New Year for beer.
The crowds will be out in force on the weekends and for the important dates on the two week calendar like the opening ceremony and the 1st day. Performances by the likes of Super Junior always brings folks out, so be aware of overcrowding. And since sun and alcohol can be taxing on the body, be sure to hydrate properly and remember to pace yourself. Tickets for entrance to Beer City are available at the gate. Note that the beer on sale inside Beer City is not cheap, so pack some extra RMB if you're going to treat all your friends new and old.
Tips for a Better Experience at the 2010 Qingdao International Beer Festival
Feel free to strike up innocuous friendships with perfect strangers who would like nothing more than to get drunk with you and then part ways forever. Or not.
Go on a weekday when the crowds are smaller. Less people means shorter lines at the WC.
Eat well to soak up all the beer, which goes very well with meat on a stick, aka chuanr, on sale along with other Chinese food all around the fest.
Ganbei with the World!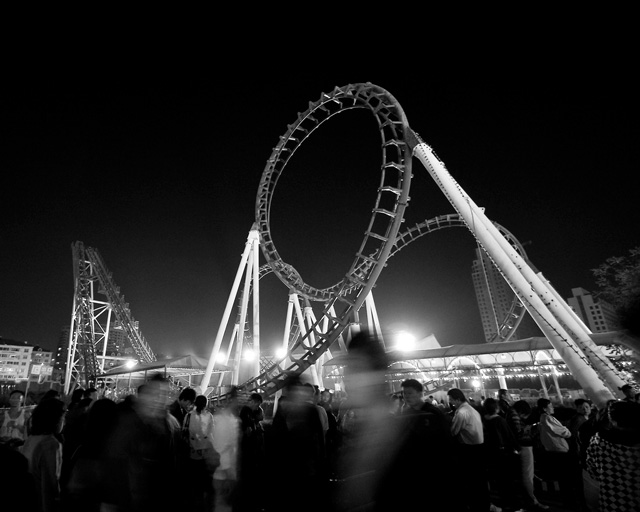 Qingdao Transportation and Accommodation for the 2010 Beer Fest
Beer City is in the far east of the metropolitan Qingdao area, in Laoshan district right next to the Old Stone Man Beach, aka Shilaoren. Getting to and from the Beer Fest may pose a challenge unless you stay within walking distance. The area around Beer City is usually restricted and some streets are completely closed off, leaving your approach on foot in the hot sun to be a good primer for your thirst upon arrival. Taxis in Qingdao can be hard to come by during the summer tourist season, and the situation just gets 8 times worse for the Beer Fest. It's probably best to avoid rush hours if you are trying to catch a cab in the downtown area. Hotels downtown are usually sure fire bets for hiring a ride, though it may be the more luxurious Audi cabs at about 25% more expensive than the basic VW Jetta and Santana taxis. Buses are always an option and the sights along Donghai Lu on the 317 are worth the ride. Other routes that stop near Beer City and Shilaoren are 321, 104, 125.
Finding a hotel in Qingdao shouldn't be a huge problem as there is no dearth of accommodation options in this tourist town. From cheap and cheerful Home Inns to top of the line Crowne Plaza, Shangri-la, Intercontinental, Le Meridien and everything in between, find your territory and stake out a place either in eastern Qingdao near Beer City, downtown around May 4th Square, or somewhere in between such as near Qingdao University and the Mai Dao area. For those who'd like to stay on the complete opposite end of town from Beer City but in a very cool old hostel, there are 2 decent options: Kai Yue Old Church Lounge and Old Observatory Youth Hostel, both in the old town. A great place to stay might be near the old Tsingtao Brewery on Beer Street (aka Dengzhou Lu, the ancestral home of Tsingtao Beer), though it's a bit of a drive from the Beer City. As another option, Ctrip is now offering flight and hotel packages for Qingdao.
Contact Info For Hotels In Qingdao:
Near Beer City
Sophia International
217 Xianggang Dong Lu / 香港东路217号
532.8897.1666
Kylin Best Western
197 Xianggang Dong Lu / 香港东路197号
532.8889.1777
Home Inn
22 Xiang Gang Dong Lu / 香港东路22号
532.6861.2777
Downtown CBD
Crowne Plaza
76 Xianggang Zhong Lu / 香港中路76号
532.8571.8888
Shangri-La
9 Xianggang Zhong Lu / 香港中路9号
532.8388.3838
Haitian
48 Xianggang Xi Lu / 香港西路48号
532.8387.1888
Grand Regency
110 Xianggang Zhong Lu / 香港中路110号
532.8588.1818
Intercontinental
98 Aomen Lu / 澳门路98号
532.6656.6666
Le Meridien
112 Yanji Lu / 延吉路112号
532.5556.3888
Qingdao Hotel
66 Xianggang Zhong Lu / 香港中路66号
532.8578.1888
Near Beer Street
Home Inn
54 Dengshou Lu / 登州路54号
532.8380.7700
Old Town
Kai Yue International Youth Hostel (Old Church Lounge)
31 Jining Lu / 济宁路31号
532.8284.5450
Old Observatory
21 Guanxiang Er Lu / 观象二路
532.8282.2626
Relevant Links:
Qingdao International Beer Festival Website
Photo Credits @ Steve Price, Wen